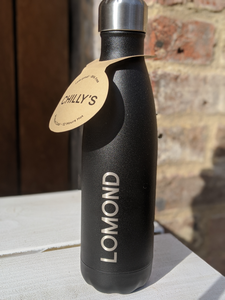 Chilly's are on a mission to accelerate the adoption and everyday use of reusable products. We have teamed up with them to promote a more sustainable business and are offering Lomond Chilly's bottles.
Offering advanced double-walled vacuum insulation which keeps ice-cold drinks cold for up to 24 hours and your hot drinks hot for up to 12 hours, regardless of the outside temperature.

Chilly's airtight screw-top lid will prevent any accidental spills and the durable, BPA-free stainless steel walls of these bottles preserve the flavour and freshness of your drink without any tainting.